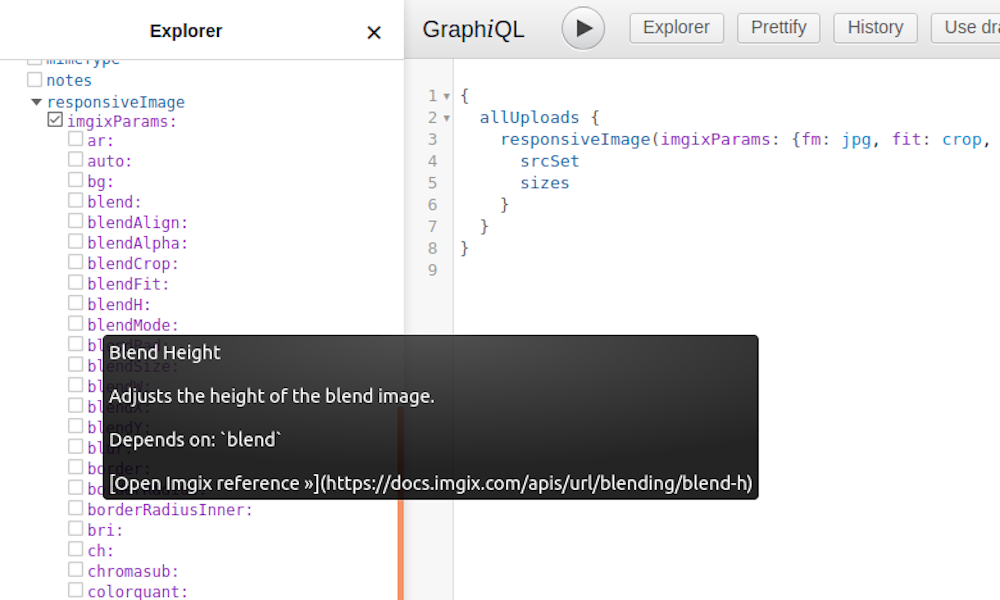 For Imgix Parameters that accept more than one value, you can pass them as an array in your graphQL query manually:
To read all the details of the responsiveImage object head to the blog post where you can also find some examples and integrations.
Videos
If you chose to upload videos on DatoCMS, thanks to the integration with Mux, we augment the video objects with:
HLS video streaming URL — here you can learn how to integrate the Mux video player into your frontend;

High, medium and low quality MP4 versions of the video to support legacy browsers that do not support HLS;

duration and frame rate of the video;

Thumbnail URL: resizable, croppable and available in JPEG, PNG and GIF format.
Like so:
Filtering
You can filter on all the meaningful fields that we offer in the uploads.
Here's an example of what you'll see in your CDA explorer:
Fetch uploads straight from the context
For the GraphQL veterans this will be obvious, but still we are impressed how cool it is to be able to fetch all the augmented assets directly from the context where they are used.
We hope you appreciate, as we do, something like this: