Using DatoCMS
Until now it's all wonderful, but what about when you need to add, edit or delete a product, a post or a page of your site? Actually is not that difficult: all you need to do is open the data files stored in _products, edit the items data, commit your changes and push it to GitHub. Netlify will grab the changes and will deploy your updated website for you.
If this can be fine for you, it certainly cannot be done if the person in charge of updating catalog is not a programmer and or is not confortable with terminal.
That's where DatoCMS shines
DatoCMS is a fully customizable administrative area for your static websites. The administrative interface is incredibly simple to use, yet flexible enough to allow the management of pretty much any kind of website.
Best of all, your customers don't need not know anything about Ruby, Middleman, Github, etc. neither they need to install stuff on their computers. You do the dirty work building the website with Middleman, and they can customize thier contents with a browser, just like they're used to do with ie. Wordpress.
Let see how this magic works
Step 1: Add Your New Site
Creating a new site on DatoCMS is simple. Once you've logged in, you'll be taken to [https://dashboard.datocms.com/account/sites](your account dashboard). If you're just starting out, there's only one option.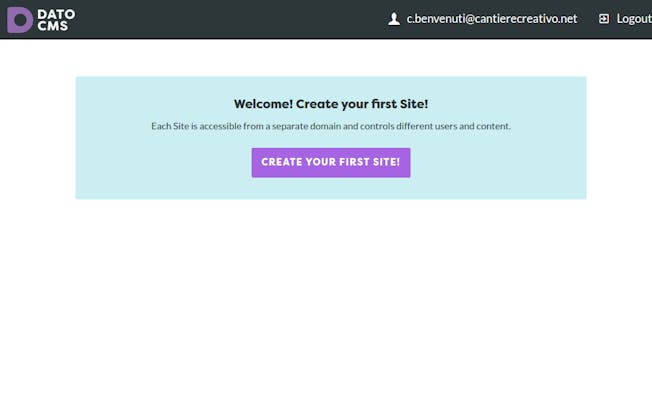 Give your website a name and eventually select a template to start your project. In our case we'll start with an empty site template: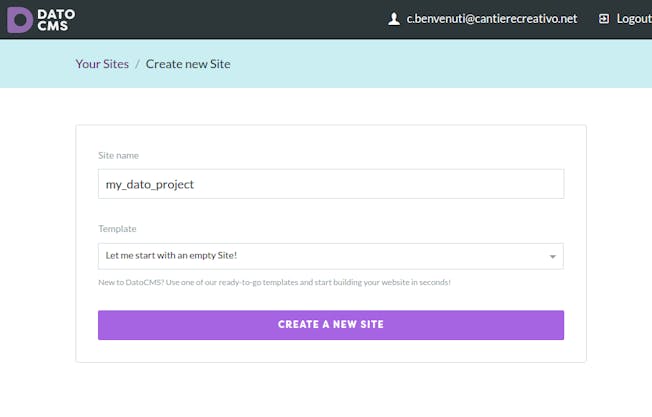 Step 2: Enter your Admin dashboard
After you click on "Create a new site", DatoCMS will create your administrative area in a randomly-generated subdomain. You can adjust some settings, but for now just click on the given link and enter in the Admin Area.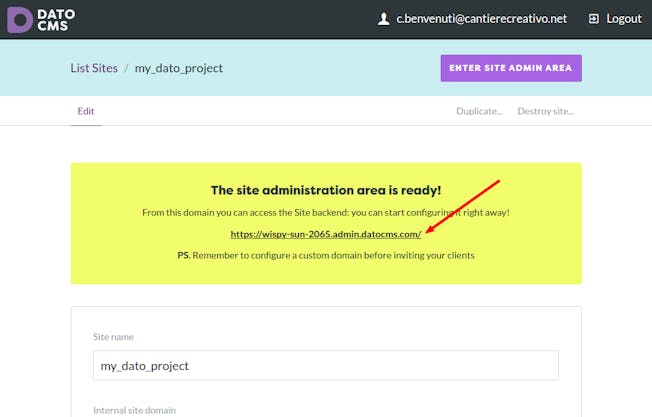 Step 3: Create the Item Types
Now it's time to create a place to store all the informations related to your Products and your Posts. In DatoCMS this place is named "Item Type". Try to think of a DatoCMS ItemType as a table in a database. Click on the plus button: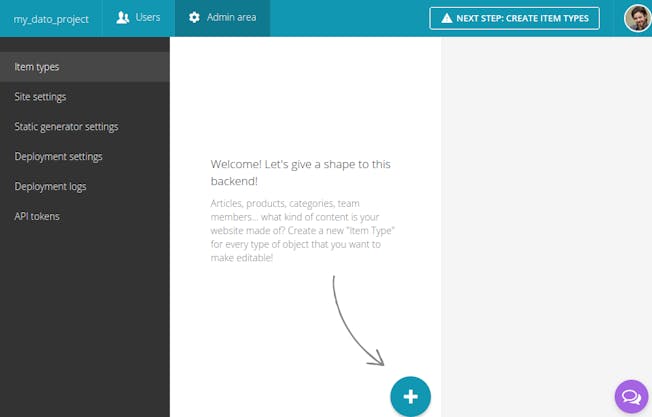 Give your Item Type the name Product. We are going to have a collection of products so DO NOT check the "Single Instance" flag. Enable the "Order collection" as in the picture to be able to reorder your product list once populated.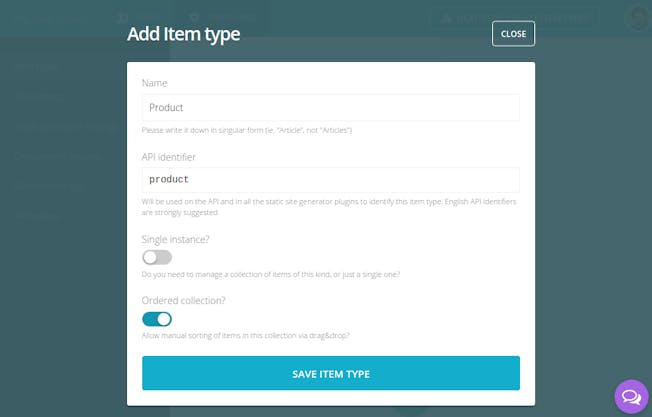 Step 4: Define the product fields
Now that you have the "Product" ItemType (again, think of ItemTypes as a table in a DB) you have to define the Product attributes. To begin click the "Add Field" button: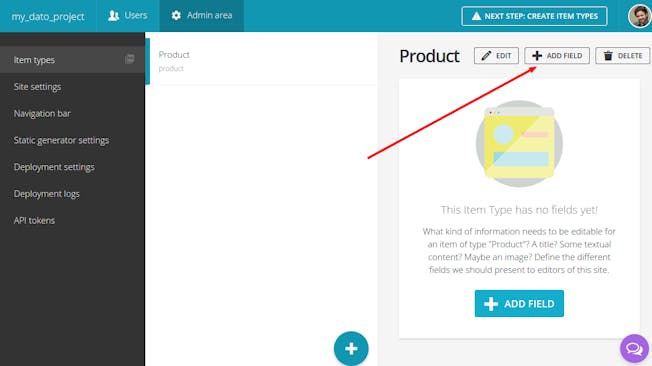 Now let's add the "Title" attribute. DatoCMS offers a lot of specialized field types, but in our case a "Simple-line string" is fine, so just click it. Give a "Label" to your field and define your validation rules as in image below, than click on the "Save Field" button:
Now repeat this taks for the Description and for the Price field, choosing respectively "Long text" and "Floating-point number" as field types: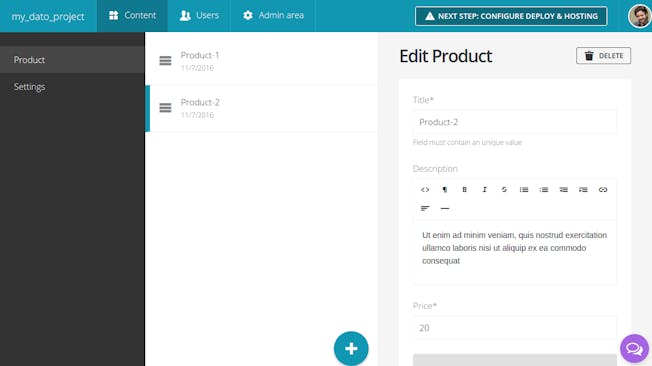 Step 5: Populate your catalogue
Now that you have the "Product" item type and its attributes defined, you can start to insert products in your catalog! Click on Content in the top navigation bar then click on the plus button to insert a couple of products.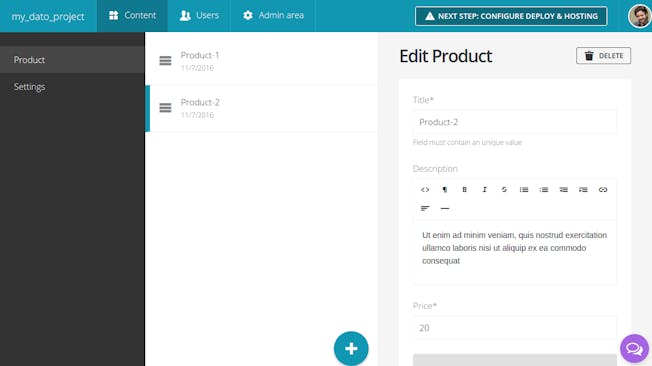 Step 6: Repeat step 3, 4 and 5 for Blog Posts
Now let's create the BlogPost item Type, its attributes, and populate it:
Click on "Admin area" on the top-bar;
Click "Item tyles" on the left menu (actually it should be already selected);
Click the "plus" button;
Give the name "BlogPost" to your Item Type and save it;
Click the "Add Field" button and choose "Single-line string", Give your Field the name "Title" and save it;
Click again the "Field" button and choose "Date + Time", give your Field the name "Date" and save it;
Click again the "Field" button and choose "Single-line string", Give your Field the name "Categories" and save it;
Click again the "Field" button and choose "Long text", Give your Field the name "content", select "Markdown Editor" in the "Presentation mode" dropdown and save it.
Now that you have your Item Type ready, insert a couple of demo blog post clicking again the "Content" button on the top-bar.
Important
You do not need to give your customer access to your Administrative Area just to populate the catalog, but you can restrict the access to the DatoCMS only to the Content section. To do so just click to Users on the top navigation bar and invite your customer/editor/collaborator.