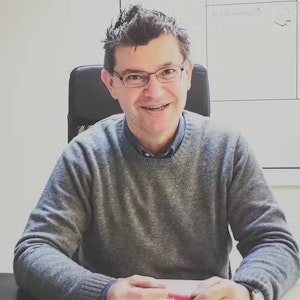 Luca Bonfiglio
CEO @ Cantiere Creativo
We are beyond excited about the close relationship we have built between DatoCMS and HashiCorp. It's really amazing. More than once, we have asked "Hey, can we have this thing?" and next day we get back a response, "Oh yeah, here it is". Unbelievable.
DatoCMS is a great blend between performances, flexibility and security. It allows us to build fully customized brand experiences in a safe environnement.
DatoCMS is a simple but powerful solution that increases productivity and time-to-market in our projects. Our developers love it and so do our customers!
Thanks for a brilliant product, I have tried the competition and in my opinion Dato is waaaaaay ahead.
We use DatoCMS for all of our client offerings for one main reason: empowerment. DatoCMS allows us to empower our clients to take full control of their content in a structured easy-to-use interface; while also allowing us as the developer to maintain a clean codebase. It truly is the best of both worlds.
The time has come that DatoCMS is dressing blhack, and it has never been better! DatoCMS has given blhack the opportunity to develop software on another level.
The ease and intuitiveness of Dato's data modeling, and out-of-the box content interface it ships with, enables us to make our efforts go into designing and building the best possible user experience, rather than spending time on implementing repetitive and cumbersome back-end logic and data modeling.
Over the last 12 months DatoCMS has helped us produce high-performance and flexible web experiences for our clients and ourselves — offering a content modelling, authoring, and delivery experience far beyond what's on offer with the traditional content management systems we're used to.
We love everything about Dato. It's fast, thoughtfully designed, great support, well documented and really great to work with. We've tested many CMS systems of the last 20 years and with Dato we finally found something that works the way it is supposed to.
It's simple, we can no longer do without DatoCMS anymore. A great content management and a DX that we love, what more could we ask for. We feel good with and our customers too.
We have been using DatoCMS heavily at my company for a variety of projects, and have been beyond impressed by how robust and well-thought-out the platform is, and how responsive the staff are to bugs and feature requests.
We are quite happy because finally we have a real CMS 😅
DatoCMS doesn't just stand out from other headless CMS, it's infinitely better in every aspect. Its speed, flexibility, and awesomeness is unparalleled.
We tried DatoCMS, and the team loved it; it felt good, it felt very nice, and our team at Nike has been super happy with it.
I think modular content is probably one of my favorite features. Being able to put together a piece of content that the client can see on one page and 'hey, this gets very close to Squarespace'.
DatoCMS does not force you to speak its language, instead gives you the peace of mind of being able to use the right solution for each project.
We are so happy with DatoCMS. I'm representing Signifly - an agency currently running 20 projects, and will increase with +10 projects per year.
As someone who works both on writing the content, and creating new pages on our site, Dato is making my life so much easier. The structure is very simple to use and it's adaptable enough to fit all our needs, with no unnecessary fluff!
We've been looking for the right headless CMS for some time, and DatoCMS feels like the perfect match. Insanely easy for developers to integrate, and intutive for editors to add content.
We aired our first Super Bowl ad and the website performed flawlessly, even under high load, which was awesome. We're transitioning all our sites to DatoCMS in the coming months.
I've researched and worked with many headless content management systems. There's only a handful that really delivers, and amongst them, Dato is my favorite: it has an astonishingly complete feature set and a fantastic (and super responsive) team that continuously drives the development forward.
DatoCMS is faster and more powerful than any other existing solution. It allows our team to easily manage our marketing and e-commerce platforms. We've been using this CMS for years and couldn't be happier with the results. As a customer, you can expect exceptional support and service. Our customers love it too!
DatoCMS has enabled Monogram to provide a flexible, scalable headless CMS solution to clients who have complex data models and integration requirements.
We just completed a full-blown e-learning system for a fintech client built on DatoCMS. Both we and the client couldn't be happier with the flexibility and power that's now in the hands of the course content developers. Next we're onto building a bespoke Inbound Marketing platform for a real estate brokerage on DatoCMS.
DatoCMS delivers on the promise of what a headless CMS should be. Richly model your content structure and access it through simple APIs, while presenting an easy-to-use editor for non-technical clients.
DatoCMS is the MVP we've been scouting for years. It is the best CMS that serves both our dev squad and our clients in the best possible way. It's scalable, easy to setup, ace customer service and future proof.
DatoCMS is what we recommend to our clients. It has great flexibility with a solid dashboard. We rarely encounter any issues, and when we do, they answer our requests super quickly.
DatoCMS is great for both developers and content managers. Our clients are surprised by the user-friendliness of the CMS, and notice that it easily integrates into their workflow. As a developer I notice that it's easy to model the content and shape the CMS in such a way that content managers have enough freedom to manage the content.
Our customers only tell us great things about DatoCMS. It gives you both a great content management experience, and crucially, a great developer experience as well. It's implemented many DX features that competitors still lack.
I've heavily researched every CMS on the market, and can't recommend DatoCMS enough. Brilliant team and brilliant product.
Thank you for a great product. A joy to work with! 😃
DatoCMS has been a great a partner to Stackbit. We use if for part of our site and love the experience.
This is precisely what I want: a CMS that's been built by an agency because they know what my clients needs.
DatoCMS's GraphQL API is just incredibly well-thought. Everything you might need is readily available. Blur-up images, dominant colors, video streaming... makes working for the web a joy again!
With DatoCMS we made the impossibile: we launched a successful international omnichannel campaign in less than a month.
I do heart Dato, my first choice CMS, always advocate my clients treat CMS flexibility seriously.
Modular content is one of the coolest features in DatoCMS... it lets you build custom landing pages in a matter of minutes!
We were using Contentful, but we're using DatoCMS more and more... is just a better fit for agency/marketing work.
Thanks DatoCMS, we can now say that we have and use the best ever made CMS in the world! Hope that our competitors do not find it in the next years! :)
At AKQA we remain Technology agnostic, giving us freedom of choice to recommend the best technologies for our clients needs and budgets. Our Developers love developing at pace with DatoCMS, and so do our Authors. DatoCMS also fits perfectly into our MACH approaches.
DatoCMS + Jamstack are a match made in heaven. It's the perfect headless CMS for all kinds of projects. If you're used to compromising on your CMS you'll be pleasantly surprised, it's somehow both powerful and incredibly simple to use for both authors and developers. I'm very glad to have found it.
DatoCMS is an Italian work of art with a usable back-office which is a miracle 💥 in the headless CMS world. Cherry 🍒 on the cake without funding raised! Hats off!
DatoCMS has changed the game for both our clients and developers! It's truly one of the most versatile and user-friendly CMSs out there that can work for any project ranging from solo or small business all the way to enterprise level. We've been using DatoCMS exclusively for our client projects for the past few years.
Without a waste of words: we love using DatoCMS. After 10+ years developing web presences, we finally found a CMS that suits our own and our customers needs. To name just a few advantages: it's time-saving, scalable, works well with headless systems like React, and offers an intuitive user experience compared to other tools we've evaluated.
We love Dato because it is really powerful and flexible. It really stood out the most when we were doing our research and we have not looked back since. We also have no challenges onboarding our clients which is a big plus.
DatoCMS is an amazing CMS for Jamstack and web apps alike. It's been super helpful for us as an agency to get up and running quickly without having to configure everything from the ground up but still have the option to tweak everything to the tiniest detail.
We are in love. DatoCMS offers our customers and us as implementers the best package of built-in features with maximum flexibility. Promises for performance and fast implementations become reality. Thanks for the great system.
Your support is super fast! A quick page refresh and whammo!!I loooove it!!
I love Netlify with DatoCMS as the content service. Pick your front end. It's a great setup.
We love to work with DatoCMS. It's our go-to solution for content. We work together since 2019 and they help us to achieve the best of the platform and help our clients. We are very happy to partner with them for our future projects! It's a lean team with the main goal to make things simple
Dato's team has come up with the most elegant solution I've seen for rich text and structured content with their Structured Text field. It combines both concepts into a single easy to use, yet powerful and flexible experience.
It's astounding that you're able to listen to everybody's feedback, not just ours, and act on it while still being such a small, bootstrapped company.
Thanks to DatoCMS we are able to serve massive spikes of terabytes of optimized images per day with zero operations and no upfront costs.
For our clients, being able to instantly view the result of their changes on the final site is simply critical. The fact that you don't need a staging server, and you don't even have to refresh the page, well, that's the icing on the cake that makes everything wow.
DatoCMS allowed me to build a marketing site using Middleman — a technology I am comfortable with — while allowing my co-founder to add new content to our product without having to learn to code.