In recent years we have witnessed a real explosion of Headless CMSs — at the time of writing, there are 70+ alternatives between open-source and commercial products. That's a lot of CMSs.
It is a fact that Contentful has been the forerunner of this type of product. Compared to its lesser known competitors, it received tons of investments that it has been able to pour into massive advertising and content marketing operations, so it doesn't come at a surprise that it is often considered a "yardstick" and that people want to know how DatoCMS differs from it.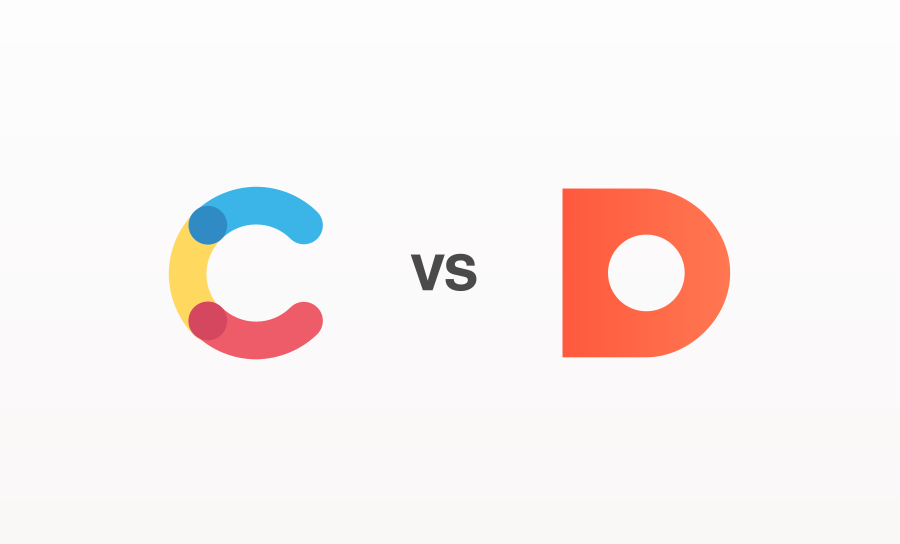 There are many areas in which we consider DatoCMS to be a much stronger CMS than Contentful, and some others in which we'd consider the opposite to be the case. This in-depth comparison (yep, sorry, long article!) will try to be as balanced as possible: our goal is to ensure that every client and developer get the best possible experience working with a Headless CMS. And, if you find something is missing, please reach to us!
Going into detail, we're going to avoid mentioning the set of "basic" features common to most Headless CMSs, and we'll focus instead on the most peculiar features of both products, grouping them by area.
Ready? Let's go! 🔥 🤼 🔥
🧭 What's their overall business direction?
It's important to think about the high level direction of a company in addition to the small details when you are deciding whether to invest many hours of work into one platform, so I will start with this.
Contentful is an enterprise services company. Their money is made by selling large contracts for thousands of dollars per month to companies. This is abundantly clear from both their support and pricing models. They offer a large, generous free tier as an "on‐ramp" to get developers to try out their platform and use it to set up sites, or even run smaller or personal sites without any investment at all.
Their professional tier is enormously expensive. Their pricing goes from $0 to $489/$879 per month, which is an absurdly large jump. There is absolutely no way that most small to medium sized sites can justify that kind of cost, given the number of alternative hosting and CMS options that are significantly cheaper, so if you are on the free plan, and they change it, and force you into a paying plan, you either are going way over budget or are forced to drop Contentful and rebuild your site.
Jeff Escalante, Engineering Lead at HashiCorp and strong advocate of Headless CMSs and Jamstack since it's inception, explains:
I have had many interactions over the years with Contentful staff trying to convince them that caring about small and medium sized applications of their product is a goal worth pursuing, but every attempt had fallen flat.
It's clear that their business strategy does not include this consideration, and that they only see these smaller sites as leads that they could possibly sell into an overpriced enterprise plan.
Seeing as how it has not changed for many years, and how they are getting investment and seem to be doing fine, I see no possible reason that it will change in the future, making it a very unstable platform for anything other than enterprise applications in which the site operator is willing to pay in the hundreds to thousands of dollars per month range for the service.
🧑🏿‍🤝‍🧑🏽 How many customers do they serve?
Tightly related to the above point is just the raw data when it comes to number of customers. DatoCMS has ~25,000 active projects and ~1,500 paying customers as of today, while Contentful in its website talks about ~2,000 customers.
So yes, we're smaller… but it's not such an unbridgeable distance as it would seem at first sight from social/marketing presence.

🔥 How responsive to community are they?
Since we're less enterprise‐focused we're extremely receptive to new features and support requests and we pay a lot more attention to what our users want. Our Community-based Feature Request forum constantly directs our efforts on the product.
Again, Jeff in his break-down analysis:
I have requested several features to DatoCMS that have made their way to production in a matter of days, where with Contentful I have requested features for years and they are still not there.
👴 Which one will last longer?
Another important consideration is how likely it is that any given CMS will go out of business and force a migration.
I understand it might be hard to make a call with this one – Contentful is by far the larger and more stable company. But Contentful is a heavily venture‐backed company, which means that it is part of their mission to drive large profits and exponential growth. Slowing from exponential to "doing pretty well, still profitable" means their investors are going to try to force the company to sell and/or shut down to cut their losses in advance. This is just how venture capital works. As such, Contentful is at a much higher risk for being sold, shut down or merged into a different service, and is forced to pursue a very aggressive growth plan, that can quite literally never slow down until they sell or IPO.
DatoCMS, on the other hand, it's a highly profitable, fully bootstrapped company with a small, hyper-focused team, so it can simply continue to offer its product to its users without all this pressure and taking into consideration only the good of our customers. The possibility of keeping the service active in maintenance mode at low cost is certainly more feasible for us.
🆘 Which handles support better?
The one category where Contentful is ahead is enterprise support, and frankly, they are far ahead. As noted in the initial section, they are an enterprise services company, so this shouldn't be surprising.
We're just getting started getting accustomed to enterprise support, and we're very much new to the area. We've have handled it pretty well so far — we have lots of happy enterprise customers now! — but if you are working on a job that is in absolute need to very buttoned‐up enterprise support, Contentful will be much stronger in this area without a doubt.
That being said, we have (far) better support on average across all tiers of service – Contentful prioritizes enterprise above all else, so it can be difficult to get what you need as a non‐enterprise user.
🤟 Which one is easier to use?
Result: DatoCMS wins 4-1
🏡 Which offers more modelling flexibility?
Result: DatoCMS wins 6-1
☁️ Which one has the better API?
Result: DatoCMS wins 4-2
🌇 Which has the better asset management?
Result: DatoCMS wins 5-1
👮 Which has the most complete roles & permissions system?
Result: Contentful wins 1-0
Conclusion
Contentful is certainly a quality product. Much like DatoCMS, it offers lots of value when you're using it to build performant digital experiences.
It's safe to say that the biggest differences here are:
Enterprise suppport: Contentful is much stronger in this area without a doubt;
Ease of use: DatoCMS has a better user experience;
Out-of-the-box functionality: DatoCMS comes with many more things that fit perfectly together, without having to resort to installing third-party plugins;
If you're an existing Contentful customer and you'd like to try DatoCMS out, we've built an incredibly easy command-line importer. As of today, Contentful does not offer a direct DatoCMS importer (yet).
At this point, what you prefer is up to you 😊
PS. If you find something fundamental is missing in this article, please let us know via Twitter or our Community Forum, we can't wait to know what the most important features for a headless CMS are for you!